Editor's note: This story has been updated to correct an error.
At an apartment on West Jackson Street, Abbi Mastagh believed mold and mildew lived within a carpeted nook on the wall, one side of her shower's exterior bubbled and her floor was slanted.
A few streets away on West Beechwood Avenue, Tracy Duddy and her son Cameron were certain the holes in the walls of his apartment were from rats, and the blotches on their feet, legs, arms and hands were bug bites.
About 30 minutes away in New Castle, a strange smell wafted up from Angela Canaday's basement. The source: a murky, dark lagoon of sewage seeping onto the floor.
The three tenants didn't know one another. Canaday, Cameron and Mastagh didn't live in the same apartment building, and the severity of their problems were different. 
But their situations were connected. They are among dozens of people who rented from the same property management company — MiddleTown Property Group — and they are among dozens of people who have had problems.
The company calls itself the largest rental company in Muncie, according to its website. Between both sections of its business, and with more than 3,300 units in its management portfolio, the company currently has rentals available throughout Indiana, including in Muncie, Indianapolis, Crawfordsville, Anderson and other areas.
MiddleTown Property Group is a property management company. They are hired by property owners to manage properties. 
Renting in Indiana: Experts and owners speak on MiddleTown Property Group and Indiana tenant law.
However, regardless of the company's reach and size, a private Facebook complaint group with around 1,600 members became active April 13, 2022, with a plethora of posts attached to its digital timeline. The posts depicted sewage, water leaks, growths on walls that tenants believed were mold, maintenance requests they said went unanswered and move-out charges they disagreed with, among other posts.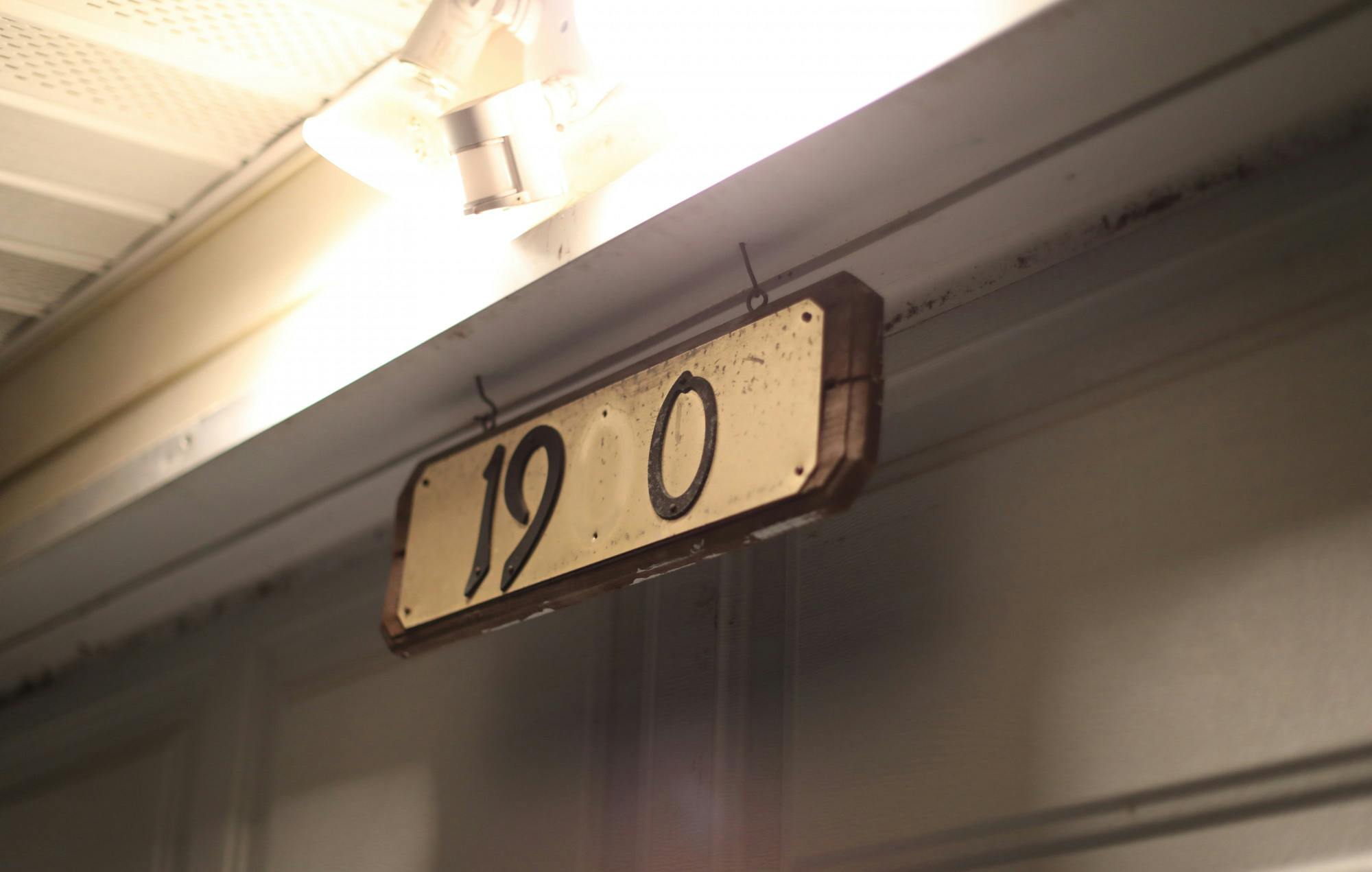 Brothers Dane and Derek Wilson, owners of MiddleTown Property Group, said via email they are "focused on continuous improvement."
"Specifically, we are improving our training and implementing better systems that drive quality and accountability. We are making needed adjustments in our maintenance coordination and communication processes," the Wilson brothers said via email. "Strategically, we are looking at who we partner with and how we partner. MiddleTown Property Group has made the decision not to work with property owners that refuse to make necessary investments in the properties that they own, and we manage. In addition, we are working with the City of Muncie on ways to improve the rental housing options in the community. There are strategic investments to be made from infrastructure to revised policies that we would support and advocate to better the city's housing stock."
In a newsletter sent to current tenants of MiddleTown Property Group, the Wilsons and current president and CEO of the company Matthew Abner said they are "improving our maintenance coordination and quality, refining our customer communication and working only with owners who will invest in their properties."
The Wilson brothers, due to the number of questions asked by The Daily News and citing a desire to protect tenants' privacy, did not respond to specific issues raised by The Daily News, but they touched on different areas the company is addressing moving forward.
But in an eight-month investigation, The Daily News analyzed Indiana tenant law and business records, and spoke with experts, property owners and representatives from the city of Muncie about MiddleTown Property Group. The Daily News also spoke with 20 tenants about their renting experiences, and many described hardships with the rental company. 
Here are some of their stories.
A Basement of Sewage
It was a very clean and orderly house with a strange smell. That's the first thing Julayne Telford, who works in housing stability, noticed when she entered her client, Angela Canaday's, rental in New Castle.
The smell was sewage, and on Telford's next visit, it had gotten worse. 
"It was like black sludge the first time I went down there and then, when I came back the second time … at that point, there was actually raw sewage [on] the basement floor," Telford said. "I mean, there was no mistaking what that was."
Canaday said people would come on the front porch and could smell her home.
"I was so embarrassed," she said. "My nerves and anxiety were all [bad]. I felt like no one was listening; I left [MiddleTown Property Group] several emails and messages."
The sewage was among other problems Canaday experienced in her MiddleTown Property Group rental.
The New Castle deputy building commissioner at the time Jeff Marcum determined her rental to be substandard in June 2022 for open junction (electrical) boxes in the basement, wires over a water heater, a ceiling leak and the toilet not correctly flushing. The rental was declared substandard again in August 2022 due to water leaks.
Kenny Melton, New Castle's current building commissioner, said the rental was also determined substandard housing Aug. 31, 2022, due to the sewage in the basement.
Canaday's home was red-tagged, which requires disconnection to a service or piping, for gas problems July 25, 2022, with a note saying operating the furnace without a qualified person would result in injury, property damage or death.  She said there were times the gas had to be shut off and where she wasn't able to use the stove.
In an email Canaday wrote to Matthew Abner, president and CEO of MiddleTown Property Group, Aug. 30, 2022, she said she had issues ever since moving in May 2022. The subject line of the email read "Crisis situation at my apartment."
A leak in the ceiling "pour[ed] in rain," her roof needed to be replaced, and her front window was damaged, she said. Condensation was in the roof and there was sewage and mold. She said in the email she had left multiple maintenance requests.
But Canaday was not the only one with feces in her basement. 
Chrissy Anderson, another tenant with sewage issues, said the smell came up from the furnace and "ruined hundreds of dollars of [her] stuff." She also wasn't able to do her laundry due to her washer and dryer being in the basement, the location of the sewage.
"I shouldn't have to trek through human feces to do my laundry," Anderson said.
MiddleTown Property Group decided to alleviate this issue through augering it, she said, referring to a tool used during the process that has an electric motor and a cutter head that cuts through the clog, according to Networx. 
Anderson said MiddleTown Property Group started working on augering the sewage two-to-three days after she notified them the first time the sewage happened.
The Daily News received screenshots of text messages from Anderson to a MiddleTown Property Group representative about the sewage in her basement and how the augering was not working after four times trying. The representative said the sewer system needed to be replaced.
The Wilson brothers, citing local infrastructure issues, responded about the sewage and mold issues some tenants experienced.
"We are focused on continual improvement but know that Muncie, in particular, last summer experienced a lot of sewage backups with the excessive amount of rain we had," The Wilson brothers said via email. "These floods occur when the local infrastructure is unable to disburse the amount of rainfall adequately during high periods of rainfall. The city and local sanitary district have completed several projects and have discussed a long-term plan to address these issues. … The backups can cause mold or mildew issues, and we have worked to remediate it in every instance we were made aware of."
Anderson said when it came to communicating with MiddleTown Property Group, it seemed like no one was ever on the same page. She said she could never find someone who worked there consistently.
She said when she did her first walkthrough of the property, she wanted peeling wallpaper, a broken stove and what she believed to be a moldy fridge to be fixed. MiddleTown Property Group gave her a new fridge a few days after moving in, according to text messages she provided The Daily News. She asked about the broken stove in those texts, but the representative from MiddleTown Property Group told her they would just be replacing the fridge at the time.
In the beginning, an employee said they'd take off some money on the deposit and wanted to give her an extra week to pay rent and a discount on money she owed, she said, providing photo evidence of the text messages detailing that offer. 
However, she said these promises were also not fulfilled and, through the text messages, a different employee told her the original employee who promised her rent discounts and an extra week of paying rent wasn't authorized to promise that.
"People are just trying to live; they have high enough rent costs, and they have to worry about getting stuff done with [MiddleTown Property Group]. It's just not fair," Anderson said. 
When it comes to her concerns, she wants MiddleTown Property Group to fix their communication, fulfill promises, take care of tenants and take care of their properties.
"They hold a whole monopoly over Muncie," Anderson said, "… and then you just don't know where to go about it."
'The Most Disgusting Thing I've Ever Seen'
Bugs. Dried liquid dripped on the walls. Sticky floors.
"This was the most disgusting thing I've ever seen," Tracy Duddy said. "It was unimaginably gross."
Despite how "gross" she felt the rental was when her son Cameron moved in, Tracy Duddy said they paid a redecoration fee in place of a security deposit.
Pictures taken by Duddy showed evidence of cabinets and cupboards not being cleaned from the previous owner's things, like hair ties on the bathroom floor and home products on the shelves. 
But what truly stopped Cameron from moving in on his original move-in date, Duddy said, was the bugs.   
"When we got there, it was so infested with bugs; we were getting bitten so badly," she said, sharing photos she took of the situation.
Aug. 15, 2020, Tracy Duddy entered the MiddleTown Property Group office with the threat of a lawyer, declaring the apartment wasn't clean or habitable. The front desk worker and a maintenance worker told her it had been cleaned — she said the maintenance person said they cleaned it themselves.
Believing she was being lied to, Duddy decided to clean it herself.
"The more I cleaned, the more I discovered," she said.
A light socket jutted forward, not flush to the wall, and rat holes took up space. Tiny black pieces of rat and mouse feces were "everywhere" in the kitchen. 
The Daily News obtained an email to Tracy from the National Pest Management Association, stating several of her photos she sent to them indicated there was a rat/mouse infestation, including evidence of rodent droppings and sebum. Sebum, they said in their letter, is material rodents excrete from rat hair and skin that can rub off.
However, in Cameron's lease, tenants were responsible for dealing with pests and rodents.
Tracy Duddy said MiddleTown Property Group started to work on things after they turned in their vacate notice, like screwing plywood on the wall to cover rat holes. However, in a note on one of the photos Duddy gave The Daily News, she said "the patches are inadequate as large gaps still exist which would allow rat access."
Months after vacating, MiddleTown Property Group took Cameron and his roommate to court April 1, 2021, for "nonpayment of rent and damages and defendants' answer."
According to the judgment order, judge of District Circuit Court Four John Feick the Duddys and his roommate left the rental in better condition than when they found it and did not receive a rental that justified $880 a month. 
The photos MiddleTown Property Group placed online differed from the rental Cameron and his roommate got, according to Feick, in reference to its usability and cleanliness.
Feick stated in the order that MiddleTown Property Group had two standards for cleaning the rental properties with off-campus cleaning "more thorough and completed" than on-campus cleaning.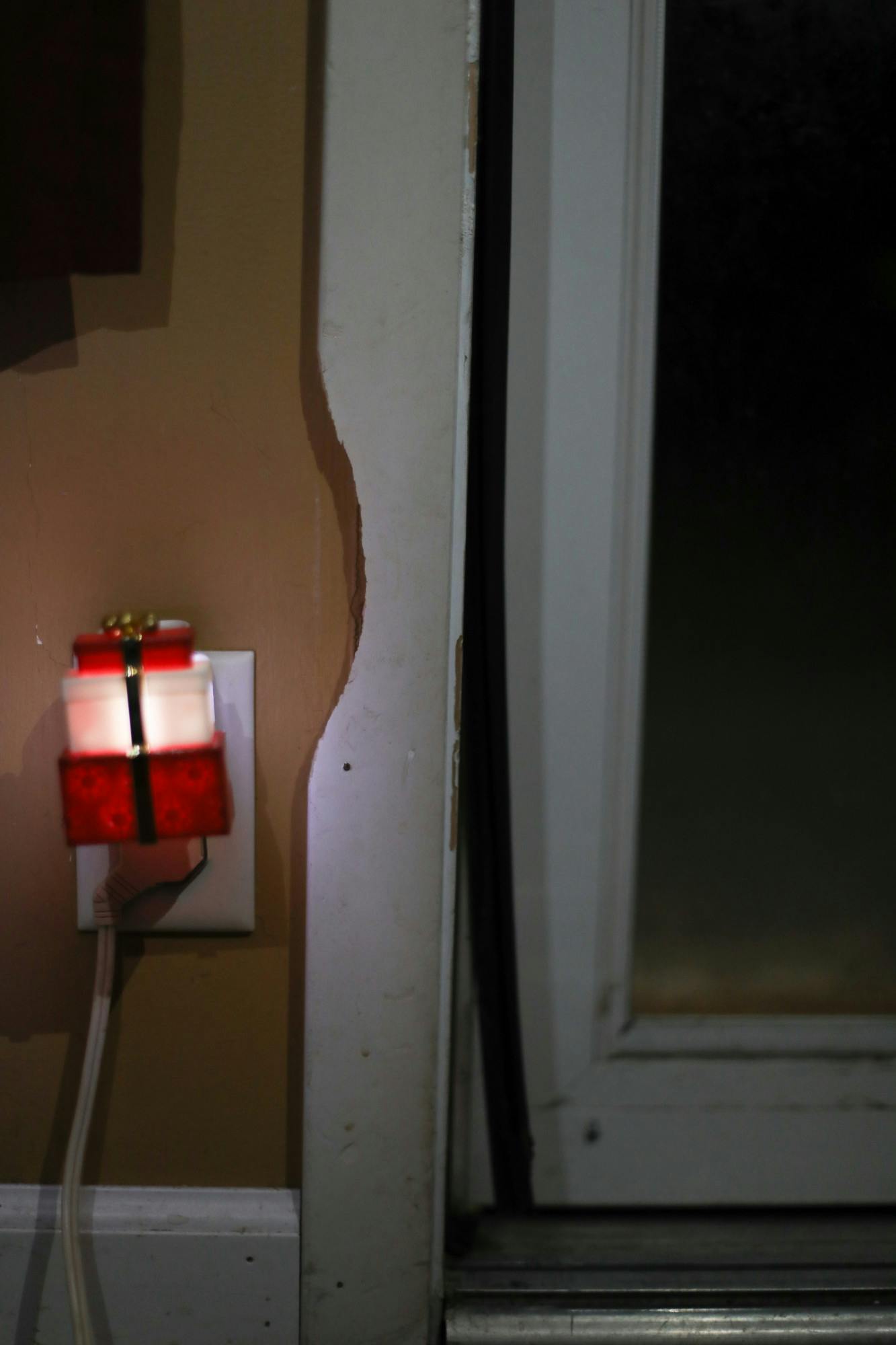 When asked by The Daily News why this is the case, the marketing team for MiddleTown Property Group originally said, "There is no difference between on campus vs. off campus cleaning." 
However, The Daily News asked for clarification due to the Duddy ruling.
"We are working on the future," marketing for MiddleTown Property Group said via email. "We are focused on continuous improvement and making adjustments in our maintenance coordination and communication processes."
Stephen Hessel, assistant chairperson of the Department of Modern Languages and Classics, heard about the MiddleTown Property Group tenant complaints situation from his students. Hessel also manages and rents out his former home near the Village and has been doing so for about six months.
He is not a proponent of the concept of a redecoration fee.
"To charge people a cleaning fee to a property they are just moving into is, in my opinion, not a good business practice," he said, "because they are moving into a property whose cleanliness and state has not been impacted by them, in any way, shape or form."
Yvonne Thompson, human rights director for the City of Muncie, agrees.
"You can't charge a so-called redecoration fee, and you have a lot of people saying, 'Well, my place was never touched. You know, it wasn't cleaned up,'" Thompson said.  "… From what I can see, they are not charging for [a] security deposit because that's under Indiana code. A redecoration fee is not under code."
The Wilsons said via email that redecoration fees are "a common practice in Muncie and in the industry," and they are a smaller amount than a typical security deposit. 
The Daily News reached out to 14 different rental companies in Muncie, asking whether they use a refundable security deposit or a redecoration fee. Ten companies said they use a security deposit, including one company deducting cleaning charges from the deposit before refunding. The four others did not respond.
The biggest concern for Duddy is for students who just wanted the college experience, like she wanted for her son. 
"He had to move back home because [of this situation]," she said. "And now none of his friends are wanting to move back because [of MiddleTown Property Group] … Who's he going to rent from?"
A 93-Degree Home
Zach Clark worried about his dogs, Kenji and Jager. Despite now roaming around and scratching human hands to receive affectionate pets, there was a time the rental was 80 to 90 degrees with no ability to turn off the thermostat — a time the rental wasn't safe for Kenji and Jager.
Zach said both Kenji and Jager would jump in the bathtub and drink the water as a way to cool off. Jager, Zach said, usually doesn't like baths.
The floor bubbled up and came off the ground due to the placement of their vents, and Zach said closing the vents made it worse.
"These [dogs] can't sit in 98-degree weather all the time, be trapped in a house," he said, "and we couldn't let them in the backyard at the time because the fence used to be broken."
The Daily News received a photo of the thermostat at 93 degrees and a photo of floor issues from Aug. 22, 2022, with time evidence.
This was only one aspect of Clark, and his wife Alexandria's, experience with MiddleTown Property Group.
When Alexandria Clark, first-year pre-interior design major, first moved into her rental with Zach in August 2022, she said her first experience was "terrible."
"It wasn't cleaned at all," she said. "There were still pubes on the toilet."
She said maintenance left their lunch trash, still scattered on the grass of their side yard, at the property. Alexandria and Zach haven't touched it, they said, because it isn't theirs.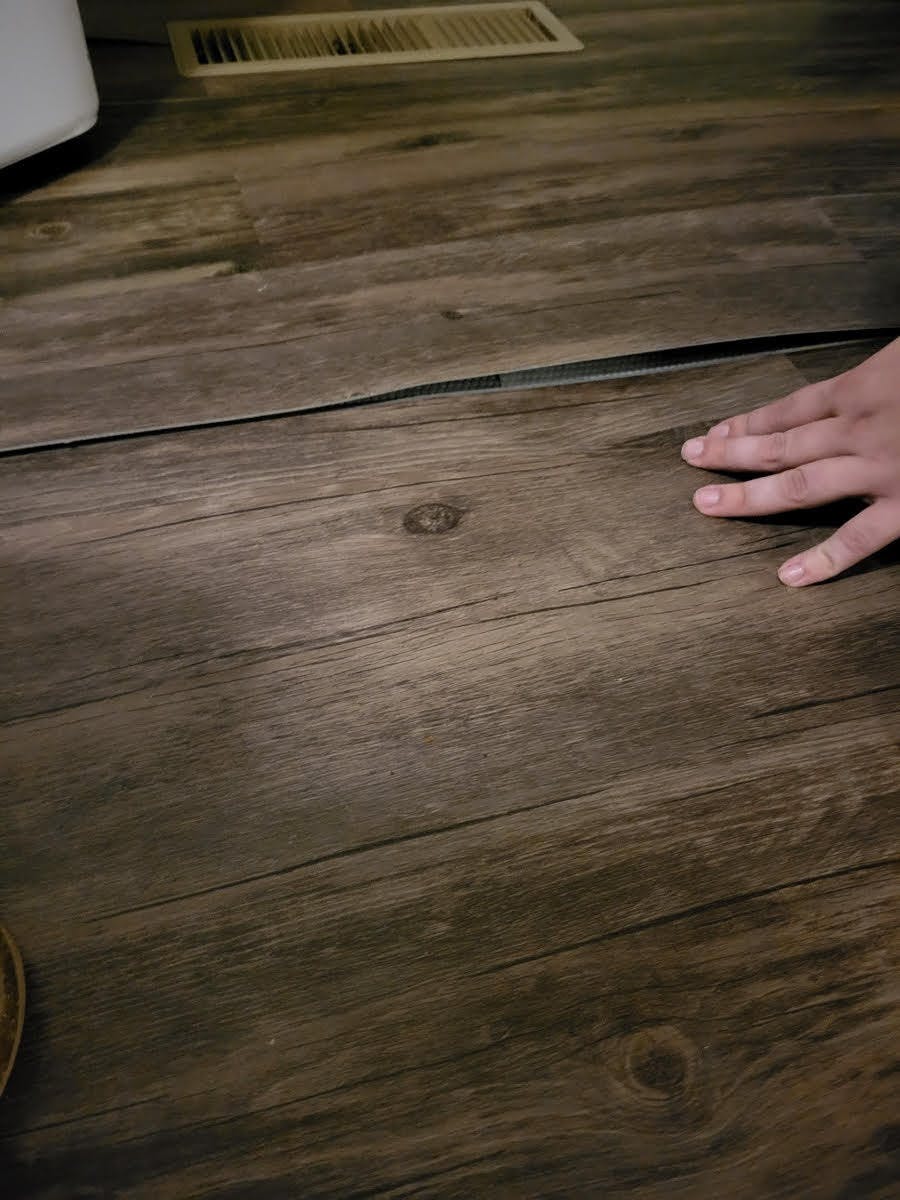 When Alexandria first saw the apartment, she noticed mold outlining their bathtub, but she said it got worse as time went on. 
"I didn't want to take a bath," she said. "But it was really cold, and I love baths. I need to have my baths, so [I] just lay in there, and I'm tucking my head away from the corners and everything. [I] was literally surrounded by it."
In November, three months after move-in, Alexandria said maintenance came and resealed the mold around the bathtub. They missed the bottom of the soap bar, however, which still had mold on it Jan. 20, 2023.
On Jan. 11, 2023, they filed a maintenance request stating their previous maintenance request was canceled about blinds not being fixed. They also filed a maintenance request Oct. 28, 2022, about the bathtub getting clogged and not draining and another about the sink leaking at the aerator Jan. 3, 2023. They also made a maintenance request about the dryer not drying their clothes fully.
Their broken fence was fixed around January or February, Zach said. They also had a bathroom door that wouldn't lock, which was also fixed, as well as trim issues that were fixed. The broken blinds were fixed around January or February 2022. 
The door without a track to slide in and out of and a problem with the hallway door are still current problems they are dealing with.
"This isn't even the worst of it, and we know that," Zach said. "This is nowhere near compared to what other people are dealing with."
'Like a Waterfall Coming Down'
When Robert Rauch and Deb Flynn first looked at their rental, they said the MiddleTown Property Group employee was polite and "really nice."
That is, they said, until the two signed their lease.
Among other issues was their leaking ceiling, which dripped water over a live outlet according to a video sent to The Daily News. Rauch and Flynn also mentioned sewage coming from the bathtub and sink, as well as toilet issues.
But Rauch and Flynn said what made them break their contract was what they believed was black mold.
"It was all over the wood, it was all over the insulation, everything up there," he said.
With the first downpour, there was a massive leak "almost like a waterfall coming down," Rauch said. Paneling pulled down on one of the beams, and Rauch said he could see into the rafters, which appeared to Rauch as having been covered in black mold.
"I was disgusted," Rauch said. "… For what I was paying there, that place should've been immaculate."
His and Flynn's rent was $1,100 a month excluding utilities.
Rauch put in a maintenance request June 23, 2022, about water leaking onto the outlet and mold, stating it was the fourth time in the last three months MiddleTown Property Group had been notified, and Rauch claimed MiddleTown Property Group was canceling his maintenance requests.
"They refused to come out and fix it," Rauch said, referring to what he believed was mold.
However, Jammie Bane from the Delaware County Health Department said there are many misconceptions about black mold.
"Most 'black mold' claims are made based on the color alone," he said via email. "There are over 100,000 varieties of molds in existence. I think it's safe to say that many molds are black in color at some point in their life cycle. Rarely, if ever, do 'black mold' claims come with lab analysis to show which variety of mold is present."
Although he doesn't hold certification in mold identification, he said via email she has experienced a lot of people saying something was "black mold" when it was really mildew that was common. He said via email the color of mold doesn't determine its threat.
The Delaware County Health Department views mold as an allergen rather than a threat, Bane said via email. 
In response to mold and sewage issues, MiddleTown Property Group referenced the extra rainfall causing the sewage backups. And the Wilson brothers via email chose not to speak on specific tenant experiences, citing a desire to respect the tenants' privacy, and did not answer all questions from The Daily News due to the number of questions.
There were other points of contention for Rauch, Flynn and MiddleTown Property Group. A maintenance request from Rauch stating the ducts in the rental had collapsed was issued to MiddleTown Property Group July 11, 2022, where Rauch mentioned his concern with MiddleTown Property Group deleting his maintenance requests and that the issue had been going on for six months.
Rauch and MiddleTown Property Group did not give evidence of these multiple requests.
"Just seeing all those pictures [on Facebook] and all those people [going] through the same stuff, how can they get away with that?" Rauch said.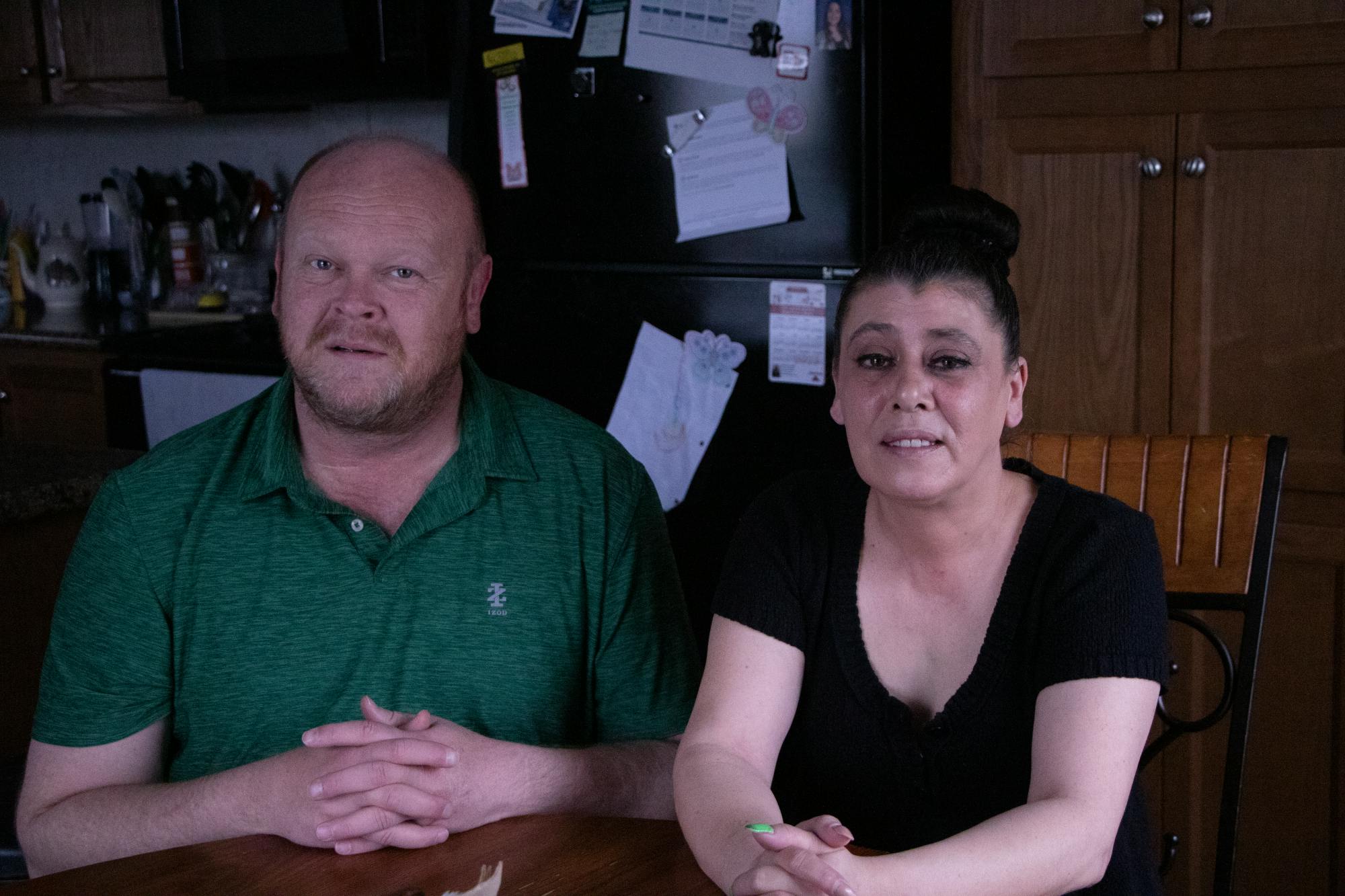 No Way Out
The door was locked, and Melissa Bass' 16-year-old daughter was watching her siblings. Bass told her and her siblings not to open it for strangers. Yet, at their door, a group of men were trying to get in.
The men didn't call their mom.
They didn't leave. 
Instead, they entered anyway.
Bass was out getting her nails done when Middletown Property Group tried to give a tour of Bass' and her children's rental.
"Someone can really be hurt … " Bass said. "They just really don't care. They don't care, and that's the main issue."
The Wilsons did not comment on this incident, citing a desire to protect the privacy of the tenants and due to the amount of questions The Daily News asked. However, they said via email that maintenance workers are required to knock and announce themselves prior to entering a rental.
Bass equated being stuck in a lease to being stuck in a marriage since it feels like there's no way out. She said since she and others signed their leases with MiddleTown Property Group, people viewed them as having signed up for this.
"Nobody really thinks someone is going to take advantage of something like that," she said. "… They can just go in whenever they feel like it, no one is gonna sign up for something like that."
Bass also lived with toilet plumbing issues and sent The Daily News video documentation. She sent records of payment to The Daily News, and she said she has never had issues with her rent payments.
MiddleTown Property Group put out a statement April 18, 2022, that mentioned Bass and a post she made. The majority of the statement surrounded another tenant, Cindy Rasar, where MiddleTown Property Group walked through how they rectified her concerns. The statement document was given to The Daily News by Bass, not by MiddleTown Property Group.
After Bass posted something about the rental company on social media, according to the statement, MiddleTown Property Group said they went through comments on the post to determine whether commenters were tenants past or present.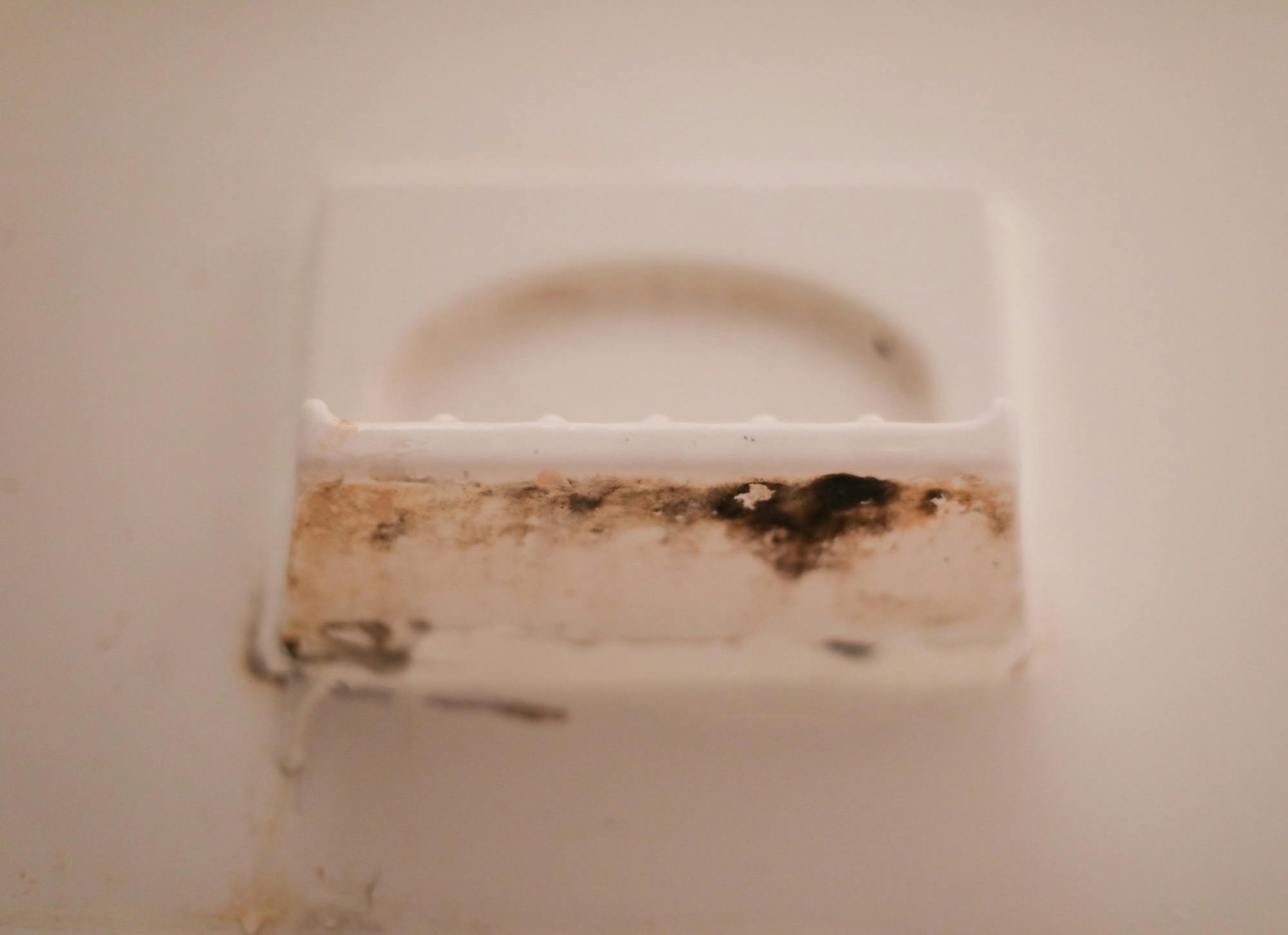 When speaking about Rasar, MiddleTown Property Group said they "felt their team did not live up to our standards," and they said they had record that her fridge had died and approval of the property owner to replace the fridge but were unaware the fridge was never delivered. MiddleTown Property Group said they reimbursed Rasar for the fridge and gave her $100 credit for the spoiled food. 
MiddleTown Property Group also said in the statement that they submitted paperwork to Lifestream to work on Rasar's accessibility ramp and temporarily stabilized her ramp until Lifestream got the new ramp. At the time of the statement, the new ramp had not been delivered and MiddleTown Property Group said it was the responsibility of Lifestream now.
In this statement, they mentioned "improv[ing] our processes and communication" and to "continue improving not just for our owners but also our tenants."
Referring to Bass, they said in their statement, "We absolutely want the opportunity to correct any situation where our team makes a mistake. We stand our ground, however, if a resident is repeatedly damaging a property or not abiding by the conditions of their lease, both of which is the case with Ms. Bass."
The Wilson brothers did not give specifics on any tenant in particular, citing tenants' privacy and the amount of questions. Bass denies damaging the property beyond normal wear and tear.
However, The Daily News received a video from Bass depicting two maintenance workers saying they had told MiddleTown Property Group they needed to re-do the whole septic line, but the workers said MiddleTown Property Group wanted band-aid fixes. Eventually, the line was fixed.
"[They] kept pushing it off, pushing it off and then a whole year later, they do what they should've done in the beginning," Bass said.
Walter Powe, owner of WL Power LLC, said he doesn't work directly for property management companies anymore due to his experiences. Although he did work with the owner of Anderson's rental, his experiences were not specific to MiddleTown Property Group and he spoke about property management companies as a whole.
"[Property management companies] have a tendency to hire anyone," he said. "Anyone down on their luck can come in, whether they can do [the job] or not."
He suspects this is often to make more money, as the employees of the management company do a $200 job which should've been a $600 job, he said.
"It's important; who wants to live in a house with some guy [doing maintenance] who [doesn't] know what he was doing?" Powe said. "… A master knows what he's doing."
The Wilson brothers said via email new employees go through background checks and have a 30-day tryout period where skills are assessed. They are trained closely by field supervisors, and the Wilson brothers said via email that additional training and certification are required for specialty skills.
"The industry is short on qualified maintenance people," the Wilson brothers said via email. "Labor shortages are common across the country. MiddleTown Property Group is working with Ivy Tech to help train and hire techs from their school."
Money Magic
Emma Grow, 2022 Ball State graduate, said it felt cheap.
It felt obvious.
It felt bizarre.
Her feelings of frustration and humiliation stirred up again as she looked at the balance of the bill. She felt the company thought she was a "dumb college student," so they could get away with it. 
Her issues started April 2021 when MiddleTown Property Group became the new property manager of her home.
With a new payment portal she had to join, she started getting charged through both her old housing portal and the MiddleTown Property Group housing portal. The first two months she was reimbursed, but the problem continued. 
By the end of her stay, MiddleTown Property Group owed her $730. She got an email November 22, 2021, with charges listed through her tenancy that she sent to The Daily News.
The document stated Grow owed in charges the exact amount MiddleTown Property Group owed her in credit — MiddleTown Property Group didn't owe her any refund.
"That kind of sparked my rage again," she said. "I was just freshly frustrated."
She said she went into the office to ask MiddleTown Property Group to provide receipts for the services they charged her for. These charges included a microwave cleaning fee, an appliance she said she never used because she had her own and a carpet cleaning fee of $400.
"So much of this just feels so pointed that it's comical," Grow said. "... you think I'm gonna believe that out of this magical circumstance that exactly what you owe me is what [my roommates and I] owe you."
MiddleTown Property Group told Grow they'd give her $150 back for the carpet cleaning fee, and whenever she'd talk to employees in the office, they'd often say, "[You'd] get your check next week."
Grow said it didn't come that next week, and she viewed the $150 as a "small olive branch" and as closure on her experience.
"It felt like that was the closing words; I feel like that was the end of the experience that could have been at least semi-finite or final," she said.
Grow received the money Feb. 28.
The Wilson brothers said via email they would not comment on particular tenant situations citing a desire to protect the tenants' privacy and due to the number of questions from The Daily News.
Emily Angle, 2022 Ball State graduate, is also still waiting for more specific information regarding her list of charges. 
The itemized list of charges included: $32 for four drip pans and stovetops, $25 for a broken fridge door handle, $350 for furniture removal and $560 ($140 per room) for touch up paint. All of these charges signified maintenance beyond normal wear and tear of a rental.
Angle said the only reasonable charge was for the fridge door handle since the handle was broken, and she said she would be willing to pay for it. However, she said the other charges didn't make sense as she was careful not to do anything to the walls and anything she and her roommates did was normal wear and tear.
The Wilson brothers said charges are based on prices in the lease, which are pre-determined and standardized. MiddleTown Property Group's staff inspects the properties and takes photographs of the rentals, which are later cross-referenced against move-in inspections reported by tenants within 48 hours of move-in.
"Charges are sometimes delayed when there are high volumes of residents moving out," the Wilson brothers said via email. "This can occur during student move out when there are 500 plus move-out inspections to complete and review."
Angle said she has filed a complaint with the attorney general, and she thinks she will be sent to collections. However, since no proof has been given to her about the charges, she said they aren't going to pay and her mom, who is a cosigner on the lease, is ready to fight.
"We will go to small claims if we have to," Angle said.
'Do Better'
Abbi Mastagh, who is soon to be in the applied behavioral analysis master's program, placed a small battery on the floor near the wall with a limp heater draped to the ground. As she let go, the battery rolled almost seamlessly down the slanted bedroom floor.
A kitchen leak. No hot water for a period of time. Water being shut off or unusable different times throughout renting. Electric flickering. Miscommunication. Fixes not actually getting fixed.
These were the reasons Mastagh moved her furniture out of the MiddleTown Property Group rental she still has to pay for until August, she said.
This wasn't Mastagh's first rental with MiddleTown Property Group. After her first lease ended, she didn't have other roommates to renew the lease, and her old rental was too expensive, so she chose her current apartment out of few options Aug. 31, 2022.
"At the end of the day, I was the only one touring the property when I went through it," she said. "And I don't know enough about foundational issues or piping issues or electrical issues to know and look around and notice that this clearly wasn't the best option."
Mastagh's rental is currently heated from her downstairs neighbor's heater, which flows through a vent in the kitchen up into Mastagh's rental. Mastagh said she doesn't use her heater now because she doesn't need to due to her neighbor's heat from the vent.
The vent also carries music, and by looking closely, a small portion of the downstairs duplex can be seen.
Among other issues she said she has faced, Mastagh put in maintenance requests for her heat not working, warm water not working in the shower, mold growing by a window in the shower and on a carpeted nook in the wall, no power in the bathroom due to a fuse, a bathroom sink leak and a piece of ceiling falling out of part of the bathroom. 
There were more maintenance requests she couldn't access anymore that were shown in a screenshot she sent to The Daily News. There was no information on them to identify what issues they were about.
On one hand, she said MiddleTown Property Group was getting quicker and more diligent with getting people out to do maintenance. On the other hand, she said "it's a lot of back and forth," as well as a lot of waiting around for maintenance requests to get fixed.
However, her perception of the company has taken a turn for the worse.
"Up until this year, it was pretty good," she said. "But this year, I told them I've been incredibly disappointed with the treatment, especially me renting with them loyally for three years. I have never, ever experienced such neglect in a property or tenant ever. And although their customer service has improved, … when they do come out to fix things, they have to come out again the next week because it wasn't fixed properly."
She said maintenance, in most cases, comes back within two to three days, but with non-emergency fixes, it could be weeks, or it could fall in the cracks. 
The Wilson brothers said via email that they invite residents with outstanding issues or concerns to contact the Resident Services office at 765-289-7618 option two or through email at residentservices@middletownpg.com.
"We started MiddleTown Property Group to manage our investment properties. As we grew, we saw an opportunity to employ and create jobs in Muncie and make a positive impact on the city," the Wilson brothers said. "Today, that is still the company's goal and vision ... Our company has grown quickly over the last several years. We found that the systems and processes that worked for us when we had 300 units did not work the same for us at 3,000."
But Mastagh's frustrations aren't directed at MiddleTown Property Group. Instead, she's angry with the landlord, or owner, she said.
"At the end of the day, rental companies can only do so much, and they have to approve everything with the [owner]," she said. "So, whoever owns this house completely let it go, and they have no interest in updating it, renovating it or anything like that."
As she sat in her now empty bedroom due to her recent move, she didn't hesitate when answering what she'd want to say to the owner of her rental.
"Do better."

Contact Elissa Maudlin with comments at editor@bsudailynews.com or on Twitter @ejmaudlin.